"What vibrator would you recommend?"
By Roylin Downs-
I get that question a lot!  "What's the Best Vibrator…?" Because there isn't one vibrator that solves every need and desire, my next question is always…"For what…?"
Today I got an email from a customer asking what the best couples toy was, and best solo play vibrator, for her, external.  Here's the advice I usually give in the store about finding the right vibrator, and what I shared with her:
This is a list of the best vibrators we have for the following purposes:
Partner Play:
#1 We-Vibe.  The We-Vibe is a vibrator a woman can wear during lovemaking, and both partners share in the vibrations.  It is waterproof, remote controlled, with multiple sensations, and is quiet.  It can also be used for foreplay, solo play and outside the bedroom, meaning you can wear it out to dinner, and then hand your partner the remote control to your vibrator!
Choosing which:
The We-vibe 3 vibrator is more flexible, but looser.  It's more comfortable for wearing outside the bedroom, but some women find it moves around, so it's not a perfect fit for all.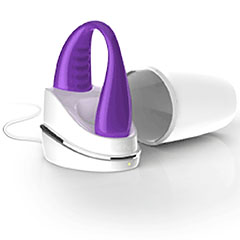 The We-Vibe 4 vibrator is a tighter fit, which can be more stationary when lovemaking.  It's really good for solo play, and lovemaking, if the fit is right.  This vibrator is very popular right now because the vibrational pattern and texture is different from the We-vibe 3.  It's not as comfortable for outside the bedroom/walking around.  We-Vibe 4 Plus is the Bluetooth enabled version, so if you want the ability to manage the vibrator remotely from anywhere in the world, you should get this vibrator.
The We-Vibe Vibrator you choose will depend on how you want to use it.
#2 Our second best couples toy vibrator is a combination of a vibrating tool and a massage oil candle.  We recommend either the Jimmyjane Form 3 vibrator or the Leaf Life vibrator for the massage tool, and a L'Esperanza della Luce for the massage oil candle.  The candle oil can be poured on the body while the candle is burning and it won't burn, it's just pleasantly warm.  It's a very sensual experience, and we believe touch is the most basic sense of intimacy.  Both tools are discrete and non-threatening to couples, especially if its their first toy.  The reason you may choose one vibrator over the other is that when you receive or give a massage you may like pressure (Leaf Life) or a more soft touch (Form 3).   The Jimmyjane Form 3 vibrator also has pulsations, while the Leaf Life vibrator has low to high vibrations.  Either toy can be used for massage, teasing, and on the partner, him or her, anywhere on the body.
#3 Would be either Fixsation, which is a vibrating crotchless panty, or the Lux 4 / 4+ Vibrating ring.  Depending on if he's willing to wear a ring, or if she wants constant vibration, most couples choose between these two.  The Fixsation is rechargeable, but not waterproof, and has multiple sensations.  The Lux 4 is waterproof, rechargeable and has Low to High vibrations, and comes in a smaller and fuller size vibrating ring.
Solo Play :
#1 External toy for women is the Jimmyjane Form 2 vibrator. This toy is "tooth" shaped and is waterproof, rechargeable and quiet.  It's got low to very high vibration, and has 4 variations in pulsations.  It's really great for women who want a lot of vibration, though it does have a nice low rumble as well.  The new Jimmyjane Form 2 Lux version is especially good for my "power girls", who favor a strong Hitachi Wand style vibrator, but want something they can travel with, or that's discrete, not bulky… and quiet!
#2 A Close second is the Crave Duet or Solo– This vibrator is discrete, and charges from your computer.  It's waterproof and has 4 power levels and 4 pulsations.  Depending if you'd like to have the two prong style, or more a flat surface, which could be used for massage or partner play, is usually why people choose one over the other.  Also, the Duet vibrator has a Turbo mode, so "power girls" like to have this one due to its ease of travel and extra strong vibration.
#3 Leaf Life.  While we recommend this for couples play, it's a great pinpoint stimulator for women as well.  Low to high vibration, and waterproof and rechargeable, as well as being super discrete.
#4 Lelo Mona Sometimes women want external stimulation, however they want a toy that will have a handle, so that they can reach the clitoris even from a distance, like during some positions that might require that, like doggie style.  The Lelo Mona vibrator is an awesome G-Spot toy and has a number of power levels and 8 sensations, but it's also a great clitoral vibrator, for external stimulation.  It's waterproof, rechargeable and quiet.
I promote an orgasm a day, so any of these tools will help you achieve that.  The reason being, you can use them in the shower… as you shower most days, you wash your hair, condition… wait a few minutes while the conditioner sets… (this is when you can give yourself an orgasm in minutes with one of the above tools) and rinse and go…  😉  The whole world looks different after that!
Hope that helps!
Roylin Downs is the owner and founder of Trystology.  Read more about her at www.trystology.net.