At Trystology, we encourage #AnOrgasmADay !
I think about it, and it's kind of funny!  I promote #AnOrgasmADay in the shop, but I rarely talk about it outside my one-on-one discussions with my customers!  For someone who's had a blog for almost 5 years, I think that's pretty funny!  It's like I'm keeping it as one of my best kept secrets!  REALLY!  I mean, if it's the basis for one of my core beliefs in my business, why not talk about it!?!?  So here goes!  From this day forward, I'm going to remind you… it's important to have an orgasm a day… and if you don't have one, at least to strive for it!
#AnOrgasmADay
So what's the basis of this belief, you might be asking.  Well, here's the thing.  An orgasm gives you something you can't get any other way – oxytocin, endorphins and immunoglobulin A!  And it's FREE!  Not only does an orgasm make you feel good… it's good for you.
Let's look at all the benefits of an orgasm:
Stress reduction!  Oxytocin helps with stress, and leaves you feeling relaxed and safe!
Helps you sleep! That's right, if you're lying awake at 3 AM, have an orgasm! It'll help you sleep!
Helps with headaches!  No more excuses about "I've got a headache"… we've got a cure for that!
Increases intimacy with your partner!  If you're partnered, it's sometimes difficult to connect through the challenges of a long relationship, but if you're enjoying intimacy together, it's difficult to be angry, and you're most likely willing to work it out!
It resets you, and makes difficult situations more tolerable!  I always say that mother's of small children, who don't have a lot of time for sex and intimacy with their partners, NEED this most of all!  With an orgasm, you're more likely to see the world in a whole different way!
And extends our lives!  My grandmother, Marion Downs, always quoted the Harvard Study on Aging, which stated that the more orgasms one had, the longer one might live, and it didn't matter if it was with your partner, or by yourself!  She lived until she was almost 101! I think she knew what she was talking about!
So you can see there are MANY benefits to #AnOrgasmADay!
The challenge for many women is how to achieve this.  With most women it can take 20-40 minutes to have an orgasm!  There's nothing shocking about that. It's just the way we're built!  I like to say that men are like microwaves and women are like crock pots.  Women just need a little simmering!  But what happens if we don't have that kind of time every day?  Luckily for us, there are a few manufactures who are starting to make products that can help to turn women into microwaves, often making an orgasm possible in 1-3 minutes!  With that kind of "tool", women can truly achieve #AnOrgasmADay !  Let's take a look at a few:
Jimmyjane Form 2 (& Form 2 Lux)– This vibrator has been one of our top selling female toys.  With it's unique shape, it's great for nipple stimulation, or clitoral stimulation, and has varying speeds from a low rumble to strong vibration.  I like to tell women that they can take this vibrator into the shower… You need to shampoo your hair every other day or so.  Then you condition.  When you condition, you need to leave it on for 3-6 minutes usually.  With the Form 2 you're able to have an orgasm in 1-3 minutes.  When you leave the shower, you're whole perspective on the world is different!
Womanizer – This newly introduced toy from Germany is fast becoming a favorite, due to its Pleasure on Demand concept, and touchless air technology.  This is one of the only toys that is so confident about orgasm that they have a money back guarantee!  It's also a bit addictive.  Once one is able to have orgasms this easy, it's easy to see why we're promoting an orgasm a day!
Lelo Ina Wave – The Lelo Ina Wave is one of the few rabbit vibrators with "wave" technology.  It has an "arm" that moves up and down to simulate the "come hither" movement needed for the G-Spot, while having incredible vibrations… or no vibe at all!
And lastly I'll recommend the newest Wand Style toys that have for decades brought women to their knees…
Doxy – A powerful plug-in vibe with 9000RPM and variable speed, with pulsations.
Magic Wand Rechargeable – The reinvented 1968 standby Hitatchi Wand, which now has a dense silicone head, 6300RPM, which feel somehow stronger than the Doxy, 4 power levels and 4 pulsations. The unique thing about this one is it's rechargeable, and when it's dead and you NEED it, it's Plug-N-Play!  Crazy!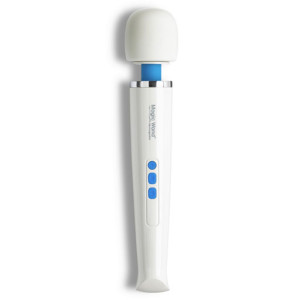 And Last but not least, the Palm Power and Palm Power Rechargeable!  Strong Power, adjustable speed, and one connected, one cordless!
Can't go wrong with any of these!  For other incredible toys, check us out at www.trystology.com
And don't forget #AnOrgasmADay !