Is Zumio Just the Right Thing?
Throughout my time in this business, I have been in search of the perfect tool for achieving an orgasm quickly and easily. A vibrator with just the right amount of vibration, sensation, and yet something that is body safe, waterproof and rechargeable. One that can be used with partners or by oneself!  That doesn't sound like too much to ask for, does it?  Along the way, I have found some amazing tools, many of which I LOVE!
The Eroscillator
While it's a plug-in tool, the Eroscillator is a wonderful tool for all women, whether power girls or not.  It oscillates vs. vibrating, which allows for no numbing sensation, and women seem to love it.  It has the ability to change heads, so you can have the softness of the Soft Touch Finger Massager, or the more assertive sensation of the Grapes.  While it's not waterproof, or rechargeable, it does offer women wonderful orgasms, and can be used by partners during lovemaking, having a handle and narrow head, it has some reach.
Jimmyjane Form 2
This toy is my "go to" for most women.  The vibration seems to be something that most women can relate to, and it is waterproof, rechargeable and quiet.  It has dual head stimulation, good for nipples or the clitoris, and is so small it fits in the palm of the hand, easily.  Whether you're using this for pinpoint stimulation, flat vibration surface or "sensation in stereo", this tool is great from a multitude of angles. One downside is that it's harder to fit between the bodies, because it is rigid and slightly wide… It is great in some positions, but not in all.  One great thing is that it has enough power for most power girls, so it's a great travel tool for power girls.  It also has a low, low sensation, so it's also great for most women.  I say it can give a woman an orgasm in 1-3 minutes!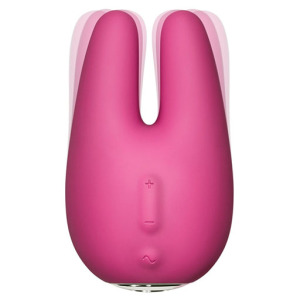 Along comes the Zumio Vibrator
An odd looking plastic tool with a very narrow pinpoint head, with the claim of being able to give a woman an orgasm in 60 seconds? Forgive me if I am skeptical of this assertion! Upon meeting the Zumio, I discover that this is no gentle flower. From the first sensation, it is full speed ahead, and then ramps up to a total of 8 levels of sensations, which could be considered "ramming speed", or knock you in the next room, as I've said about the Magic Wand, if this toy was not so small as to only have only a pinpoint head for direct stimulation of the clitoris.  The fact that it oscillates, like the Eroscillator, and has the power of the Form 2, makes it almost the perfect tool for my women who like a little more power or sensation!
How do you use this odd looking tool? The Zumio looks more like a wand, so it can be held within the palm of the hand, pointing out. It has an "on" button, and a separate 8-shaped sensation adjustment button which takes you from the initial on sensation to the many power levels. I'm not sure most women will need to go past the third level, but as Womanizer said the same thing to me about their original product, and I didn't listen to them, many women may not agree with me on that! I'd recommend that you start with the initial sensation and use it to tease the clitoris and perhaps go along the clitoral legs down the labia.  As arousal builds, you are able to allow more sensation on the clitoris, and perhaps ramp up the sensation on the top of the 8 shaped adjuster.  Whether you use a light touch, or press more firmly, it seems to work both ways!  The wonderful thing about this tool is that no matter what position, you're able to fit it between the bodies during lovemaking!
And, YES! Zumio does seem to work within 60 seconds! AMAZING!
I find the Zumio to be one of the best toys for an "Orgasm a Day" philosophy, and one of the easiest ways a woman who likes stimulation can achieve an orgasm.
You can find Zumio at www.trystology.com, and be sure to send any questions or comments to roylin at trystology.com