Sensory Play, Snow, and Slippery When Wet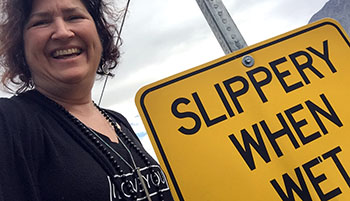 In this episode Roylin talks about sensory play, or erotic play using sensations like cold, hot, scratchy, or electric. And the "Have You Had Your Orgasm Today?" segment looks at the challenges of aging and how desire can diminish. But the benefits of intimacy and orgasm, with oxytocin, endorphins, and antibodies, never goes away.
Production for this episode fall's on Roylin's birthday, and finds her visiting Palm Springs Aerial Tramway for a walk in the snow. The snow, with its chill, adds a level of sensation that changes toys like the Njoy Eleven or Pure Plug, by creating a cold sensation, or warm sensation if placed in warm water. By using heat or cold with products like glass dildos or steel toys, individuals and couples can change an ordinary toy into an extraordinary experience. In addition to glass and steel, wooden toys, and even electro stimulation, or E-Stim toys can add to the sensory experience by changing the dynamics. Using all sensations, sight, sound, touch and taste, couples can enhance and enjoy each other in a whole new way.
While steel, glass and wood are altered in their feeling through heat and chill, an e-stim toy adds to the experience through increased sensation, and in some cases surprise. An electric shock can add an involuntary body response, much like orgasms do for the body, and like other sensory experiences, amplify the pleasure quotient 3-10 fold.
Whether you are vanilla, or a little bit (or a lot) kinky, each person, or couple, can benefit from the exploration of sensory play. Cool, warm, tactile, sharp, smooth, tickley, or hard can enhance your pleasure. Until you've tried it, you never know, so find the most interesting sensation you can find. Start with a soft feather, or something scratchy, and see what you or your partner think.